RESTAURANT.COM GIFT CARDS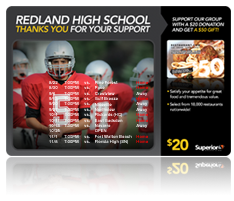 Who doesn't love a nice meal out?
That's why the $50 Restaurant.com gift
card is an incredible way to raise money
for your group or organization. The gift
cards can be used at more than 18,000
restaurants. For just $20 your supporter
can enjoy the pre-loaded $50 card, which
they redeem online for gift certificates to
their favorite restaurants. They can use
their amount all at once, or spread the $50
out for even more outings. The card also
makes a fantastic gift!
Your form has been submitted. We will contact you soon!