One more reason to eat out...
Your group earns big profits!
A BOGO TO GO puts instant saving in clear view. And that fingertip convenience makes it easy and more affordable – providing instant savings and paying your supporters back for their support. This eliminates every excuse for not supporting the group.
The BOGO TO GO offers featured on your key tags are good every day – one time, per location, until the expiration a year later.
But best of all, your group earns a very handsome return on every magnet that ends up on a fridge in your community. Members can sell these to family and friends, collecting $20 for each BOGO TO GO sold.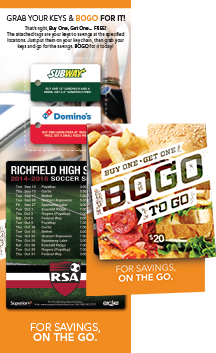 Your form has been submitted. We will contact you soon!